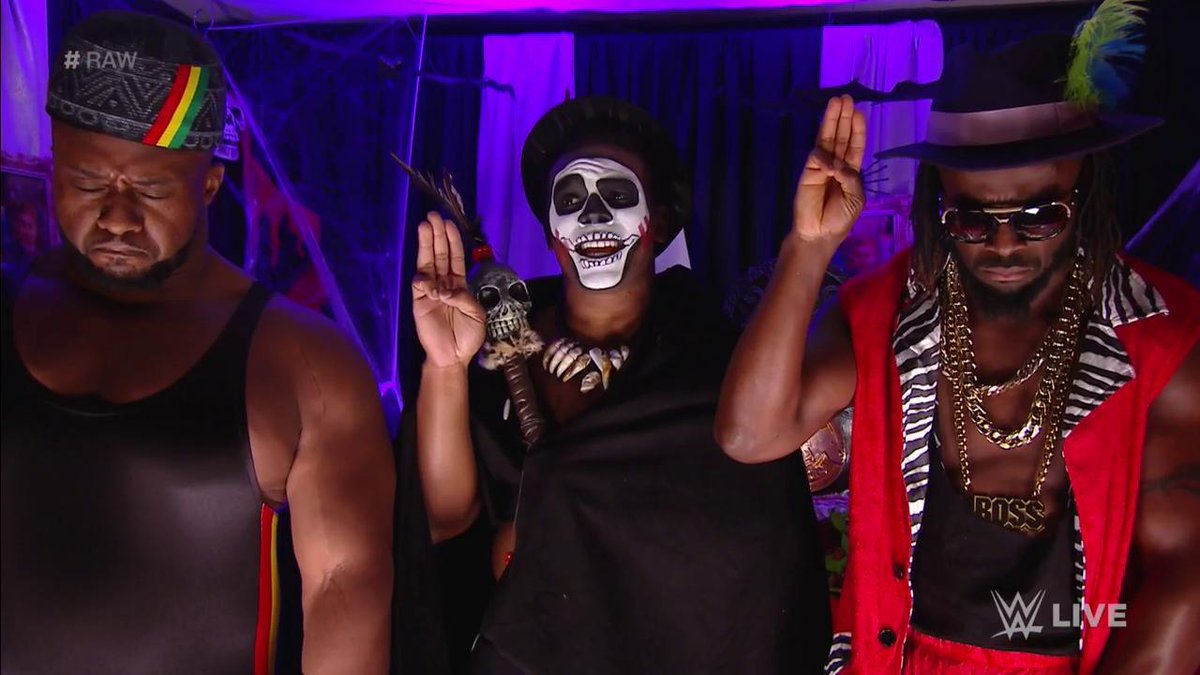 RIP Francesca II
What rough beast is this, slouching toward Survivor Series? It's Monday Night Raw, and I don't know what the fuck they're doing most of the time.
We open the show with Goldberg. At least this should go better than the clusterfuck promo from last week. Paul Heyman is out to tease Brock Lesnand then Brockblock us. instead, Rusev comes out to be Worf. You know, in STTNG, when they always showed how strong an alien was by having them manhandle Worf? Rusev does that a lot. And this week, he's here to show that Elderlyberg still has the two moves that made him famous and also knees to the gut. And Goldberg only fucks up the knees to the gut once or twice. Jackhammer to Rusev, Spear to Heyman, and can we start the actual show with the actual wrestlers now?
You know, like Enzo Amore splattering apples on Luke Gallow head. It's the traditional Halloween gimmick match - the Trick Or Street Fight - featuring Enzo and Big Cass as Buzz lightyear and Woody. Two years in a row they refuse to call candy-corn Kendo sticks "Kendo Corn". Enzo wins with a lot of mess and a DDG.
TJ Perkins gets his title rematch with Kendrick 24 hours later, with no promos, story, or buildup between them, which is a huge mistake. No in-ring party for Kendrick, no challenge, no anticipation, just a pre-match promo from Kendrick and boom rematch. It's a good match, through, with an angry Perkins taking it to Kendrick, Kendrick taking the Coward's Countout, and Perkins locking the Knee Bar on the ramp post-match. This is the kind of story Perkins needs, if they're going to keep it going.
Foley, Owens, and Jericho are out to argue about how Owens retained the belt at HiaC. They argue for a very long time about very little and the upshot is that Owens and Jericho are both on the Raw Survivor Series team, but so is Roman Reigns. Someone told Roman he was funny again, so that works out poorly. which leads to Jericho-Reigns for the US Title later on, which will also go poorly.
Speaking of Survivor Series, we have a 20 man battle royal for a spot on the tem, and a couple of the jobbers are in costumes. An earlier backstage bit set up Braun Strohman as the man to beat here, and with Sami Zayn in the ring, it's no surprise when the jobbers are tossed, Sheamus and Cesaro get each other eliminated, and it's down to Zayn and Strohman. Zayn seems to have a chance for a bit, but Strohman wins it, so who the fuck knows what this Zayn-Strohman program is all about.
The New Day are backstage, dressed as Papa Shango, the Godfather, and Kama Mustafa, and yes, I had to look that last one up, and yes, they're shitting all over the Smackdown tag division in preparation for Survivor Series. Which is fair, but probably not helpful to the Smackdown tag division, which is an actual clusterfuck right now.
Another six-man tag for the Cruisers, as Lince Dorado, Rich Swann, and Cedric Alexander (who gets Drew Gulak's big screen visuals because hey, live TV) face off against Team Grumpybeard. It's all fine, all largely pointless. Swann gets the cover.
Charlotte gloating promo is next. This of course leads to the Survivor Series match and threatening Nikki Bella and calling out the rest of the team. She then calls out Bayley. Charlotte wants to test Bayley against another member of the Survivor Series team, and it's Nia Jax. I guess we're not acknowledging that Bayley beat Jax for the title in NXT. There are some homages to it - the guillotine choke, mostly - and Bayley does better than anyone has against Jax thus far, but Jax picks up the win with a Samoan Drop.
Cesaro and Sheamus are out to see if they can keep it together long enough to squash the Shining Stars. Turns out they can, because it's the Shining Stars.
Life is too short to watch Reigns and Jericho wrestle, especially after a horrible Golden Truth haunted house pretaped bit, but I see that Owens causes the DQ and has the post-match attack. The crowd chants for Rollins, who only appears after Reigns gets hit with a pop-up Codebreaker. Rollins takes both guys out and they escape and the show goes off the air with Rollins and Reigns staring at each other uneasily.