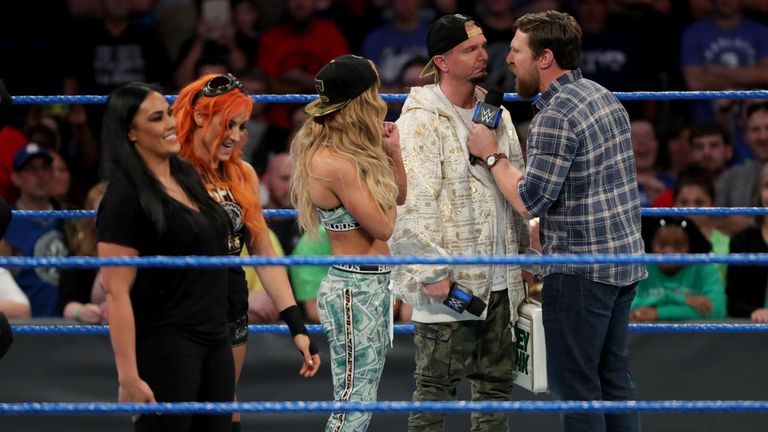 Easily D-Bry's best moment since becoming GM.
In the interest of time, here are the significant events from Raw and Smackdown this week.
On Raw, the big finale was the breakup of Enzo and Cass. This is only sorta OK for Cass, who, as the guy who broke up the team, is going to need his own new entrance and schtick, because I have to assume Enzo will retain custody of the music and catchphrases. I have a feeling Cass is going to struggle as a singles guy when Braun Strowman is filling the Monster Giant Heel role. As for Enzo, unless they take Chris Jericho's advice and move him to the Cruisterweights to bring charisma and eyeballs, what the fuck happens to him?
Strowman is, of course, back, interrupting the Samoa Joe - Roman Reigns match and causing Reigns' loss. We all knew that was coming.
Finn Balor and Elias Samson are starting a program that I assume will end badly for Samson at Great Balls of Fire. And Bo Dallas and Curtis Axel have been unmilkcartoned and have joined The Miz as his entourage. They wore bear suits and it was a positive career move for them.
On Smackdown, the big deal wits the World's Longest Dusty Finish, as Daniel Bryan took the MitB briefcase away from Carmella (verbally murdering Ellsworth in the process) and set up a rematch for next week. Also next week, a rematch of Lana vs. Naomi. This story is actually really well executed, but it should have been next year's story, not the story of the first match ever. It fails the Bechdel test. Also, Tamina decided to answer Charlotte's threat with a shorter, shittier, poorly executed but conceptually identical version of Charlotte's threat, so that was hilariously fucked up.
In off-the-milk-carton news, American Alpha are back, with Chad Gable pretending to be from Dayton to answer Kevin Owens' geographically-specific open challenge, and looked great despite losing.
Randy Orton is mad at Jinder Mahal, Baron Corbin copied Carmella's cash-in tease from MitB, New Day - Usos continues to be a great program, and I think that's it.