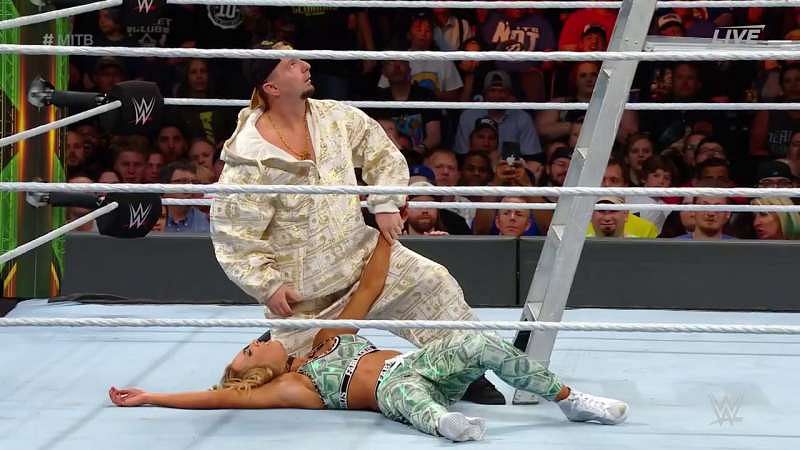 Even he thinks this is a bad idea.
Money iIn The Bank has been successfully deposited, and as a brand-specific PPV, it was surprisingly entertaining. But as the delivery system for one of the most important gimmicks in the WWE currently, it fell short.
Kickoff Match: The Hype Bros vs. The Colons: Hype Bros take it.
Color me unsurprised. This was fine. This was exactly what you'd expect from Hype Bros vs. Colons on a kickoff show or a Smackdown or a Main Event. Brief face-in-peril bit from Ryder, but otherwise pretty dominant Hype Bros. (1/1)
Women's Money-in-the-Bank Ladder Match: Charlotte Flair vs. Becky Lynch vs. Natalya vs. Tamina vs. Carmella: . Natalya? Natalya.
Well, that was garbage. Not the match. The match was great, a nice, solid, classic ladder match with everything you'd expect from one except maybe Charlotte doing a moonsault off the ladder. But that finish? Ending the first ever women's MitB match with a man (Ellsworth) climbing the ladder and handing the briefcase to Carmella, and then have the refs argue about it and the winners stall their celebration like they're waiting for a Dusty finish that never came? Bleah. (1/2)
SmackDown Tag Team Championship: The Usos (c) vs. The New Day: Usos retain.
Fantastic match. New Day and Heel Usos have a great chemistry. The match was hot, they even recovered from their one big botch well. The last 8 minutes of the match were non-stop near-falls and momentum shifts, and when the Usos barely escaped the Midnight Hour and ran away to take the countout loss and hang onto their titles, it was a really natural ending to the story of the match and a great middle chapter in the feud. (2/3)
SmackDown Women's Championship: Naomi (c) vs. Lana: Naomi. Duh.
The three biggest surprises - one, they tried to make Lana look credible and, if you didn't watch too closely, sort of succeeded. Lana's moveset is about three moves larger than I expected while still staying well within single digits. The only shenanigans before Naomi won by submission involved Carmella teasing a cash-in. (3/4)
WWE Championship: Jinder Mahal (c) vs. Randy Orton: Jinder Mahal retains regardless of match outcome.
You know what's worse than a Randy Orton match? A Randy Orton match that involves him selling a knee injury for the first 2/3 of it, and then the last 2/3 of it becomes a rerun of their last match when Randy Orton ate a Kalas after spending minutes at ringside destroying the Singh Brothers, this time after they fucked with his dad. And on Fathers Day, no less! On the upside, Randy Orton lost. (4/5)
Bonus Unpredictable Pee-Break Match: The Fashion Police vs. The Ascension:
This was a garbage nothing match, but two good things came out of it. A win by The Fashion Police, and a Fashion Files episode setting it up in the style of Miami Vice.
Men's Money-in-the-Bank Ladder Match: AJ Styles vs. Baron Corbin vs. Sami Zayn vs. Dolph Ziggler vs. Shinsuke Nakamura vs. Kevin Owens: I'm going to go with Corbin.
The trick to a good ladder match is to make the final climb seem important, exciting, and climactic. So, while the rest of the match was quite good, including Nakamura's return from Corbin's pre-match beatdown to serve up a buffet of knees to everyone's faces, Corbin's actual climb was an afterthought. Plus he legit (I think) struggled with removing the briefcase at the end, which didn't help with the pacing. On the upside, this is by far my best predictive performance all year. (5/6)