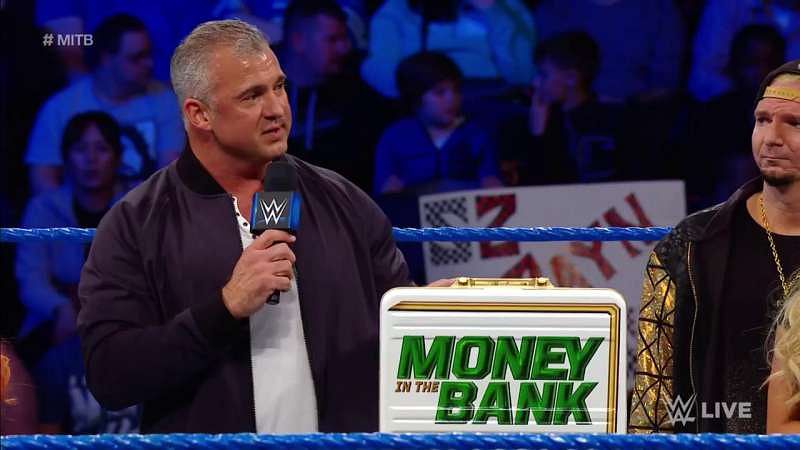 Two briefcases, no waiting.
Money in the Bank is here, with twice as many briefcases! It should actually be a decent show, at least on paper, but I am give-a-shit-impaired this week, so we'll see.
Kickoff Match: The Hype Bros vs. The Colons
The Hype Bros are returning after Zack Ryder's injury, and the Colons exist to lose matches like this (and matches in general), so Hype Bros take it.
SmackDown Tag Team Championship: The Usos (c) vs. The New Day
I think it'd be a mistake to hotshot the title back on The New Day this soon after their return, plus the SD tag roster is devoid of credible heel teems past the Usos. This might mean that WWE would do the dumb thing, but New Day also went over on SD Live, so Usos retain.
SmackDown Women's Championship: Naomi (c) vs. Lana
Naomi. Duh. I'm not discounting some kind of shenanigans that involves Lana "winning" the match and not the belt, but Naomi walks out still champion.
Women's Money-in-the-Bank Ladder Match: Charlotte Flair vs. Becky Lynch vs. Natalya vs. Tamina vs. Carmella
There are rumors that Maria Kanellis may debut as part of this match, and if she debuts, and debuts as a heel, I could see her taking it. But Naomi needs a credible heel challenger, and the only person in this match who meets that description is Natalya, who's been jobbing like CRAZY lately. The otehr possibility is Charlotte turning heel during the match and winning, but that'd throw the heel-face balance on the roster WAY out of whack. Natalya? Natalya.
Men's Money-in-the-Bank Ladder Match: AJ Styles vs. Baron Corbin vs. Sami Zayn vs. Dolph Ziggler vs. Shinsuke Nakamura vs. Kevin Owens
OK. My original thought was this had to go to Shinsuke to give him a big beefy win and a high profile role, but he stood tall holding the briefcase on SD LIve, so that's out. Ziggler won't win, Owens won't win. Of the three remaining, Corbin is the dominant heel choice, AJ is the dominant face choice, and Zayn is the fan favorite underdog choice. We had a face (Ambrose) win last year and cash in that night, and so I'm going to go with Corbin.
WWE Championship: Jinder Mahal (c) vs. Randy Orton
This would be a very difficult match to predict, but I don't care about predicting it right, fuck Randy Orton. Jinder Mahal retains regardless of match outcome.