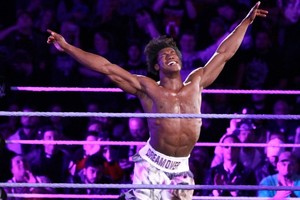 THE DREAM IS ALIVE
Despite only having one out of three champions I would qualify as "strong" champions, Takeover Philadelphia managed to put on a pretty strong show, albeit one with what I think is a huge misstep at the end.
Undisputed Era vs. Authors of Pain (NxZT Tag Team Championship): I think Era needs to retain somehow.
And they won reasonably clean. It wasn't a bad match. If you're into smaller guys kicking Eastern European brutes in the thighs, this was the match for you. I'm not sure where the Authors, or the tag division in general, go from here. Some of it will depend on whether they book War Machine as heels or faces when they debut. The Authors have got to get called up now, right? (1/1)
Velveteen Dream vs. Kassius Ohno: Dream's got momentum and needs the win more.
The pst couple of years have had three major instances of "I can't believe I like that guy now." Braun Strowman, Elias and now Velveteen Dream. Dream has a grasp of ring psychology and storytelling that decade-plus veterans often lack. And that made this match excellent despite a number of spots that looked, at least, like Ohno not helping to get his dadbod where it needed to be for the move. (2/2)
Ember Moon vs. Shayna Baszler (NXT Women's Championship): I'm betting Moon retains but also gets seriously beat down.
And so she did. She actually pinned Baszler by stacking her up out of a submission, that submission being a 45-minute armbar sequence. Sorry, seemed like a 45 minute armbar sequence. It was too long, is what I'm saying. Moon had to sell the arm almost the whole match and got choked out twice after, so Baszler stays strong and they'll presumably keep feuding. (3/3)
Aleister Black vs. Adam Cole: let's go with Aleister Black.
I forgot this was going to be an Extreme Rules match, but it was a damn fine example of the genre, with Black starting the match with an "I don't need weapons to beat you" attitude, moving through several big spots, and ending with a vicious Black Mass for the win. (4/4)
Andrade "Cien" ALmas vs. Johnny Gargano (NXT Championship): I'm going to go with Gargano getting his Cinderella moment this weekend.
GODDAMMIT. Could there have been more false finishes? I hate when they do this - they put all the bits in there that would lead to a Gargano victory. Surviving Vega's interference. Gargano's wife chasing Vega off. Miraculous kickouts. And then Almas just up and won it. And then, post-match, Ciampa hit Gargano in the back with crutches as if that meant anything after Gargano lost the match cleanish. That finish really took the wind out of my sails after what was otherwise a great match, and certainly my favorite Almas match to date. (4/5)