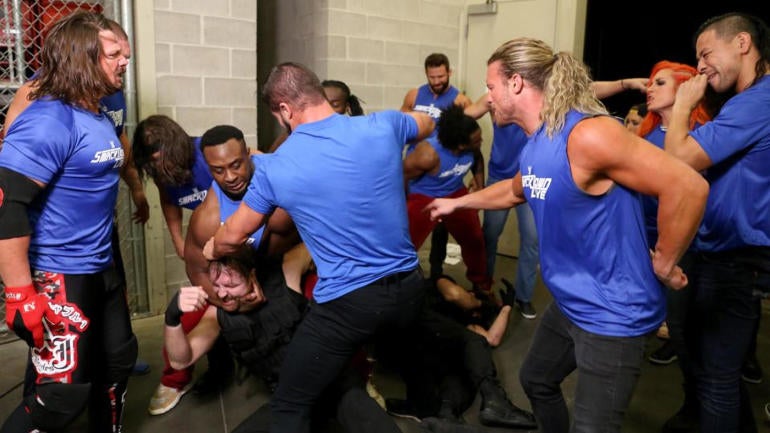 Sure, whatever.
Not a super interesting week for wrestling this week, and an even less interesting when it comes to writing about wrestling, for reasons that will be apparent in two posts (or is already apparent by the time you read this). But some stuff happened.
Champs Vs. Champs At Survivor Series
It's not just Brock Lesnar murdering Jinder Mahal at the next PPV. It's Corbin vs. The Miz, Natalya vs. Alexa, Shield (Mumps Configuration) vs. The Usos. assuming no titles change before then. Most likely candidates there are Corbin and Natalya, since those are heel-heel matchups and I don't think they'll be doing Asuka-Bliss anytime soon.
The Smackdown Roster Turns Heel
Nobody actually gives a shit about the Raw / Smackdown "rivalry". Everyone watches both shows, everyone follows both sets of belts, etc. So to have the entire Smackdown roster beat up an unsuspecting and tired Raw roster as some kind of "invasion" seems like a dick move. I mean, I don't think it was this harsh last year when it was Shane and Stephanie's sibling rivalry driving it. Kurt Angle thought he was in for some friendly competition and got criminal assault and property destruction. Makes no sense. I appreciate that Daniel Bryan felt the same way, but still.
Nikki Cross Is In The Fatal Four-Way
She won the largely uneventful battle royal on NXT to take the fourth spot. The other notable standout was Billie Kay avoiding elimination by holding on to Bianca Belair's braid, only to get viciously whipped with the braid in return.
Alicia Fox Is The Captain Now
She defeated Bayley and Sasha to become the batshit insane captain of the Raw Women's Team at SS. Her crazy woman schtick hovers between awesome and annoying, but she's hanging out in the awesome end right now, so I'm enjoying this. Also, Becky Lynch won a similar match on Smackdown to become their captain, which, good for her, but not nearly as interesting.
Fuuuuuuuck Randy Orton
Who not only got his win back over Sami Zayn, but also got his nutshot back and also got onto the Survivor Series Smackdown team.
Dull NXT Mandrama
The Undisputed Era is, as I suspected, trying to recruit Roderick Strong to the ide of Boring Blacktight Evil, and I hope they succeed. Meanwhile, Almas beat Roddy and got a post-match, WWE Dot Com video announced, title shot against Drew McINtyre for the NXT Title, making this the single dullest NXT title match I've seen since I started watching NXT and Bo Dallas was champ.