We're on the road to Wrestlemania, but in two weeks, we have to stop off at the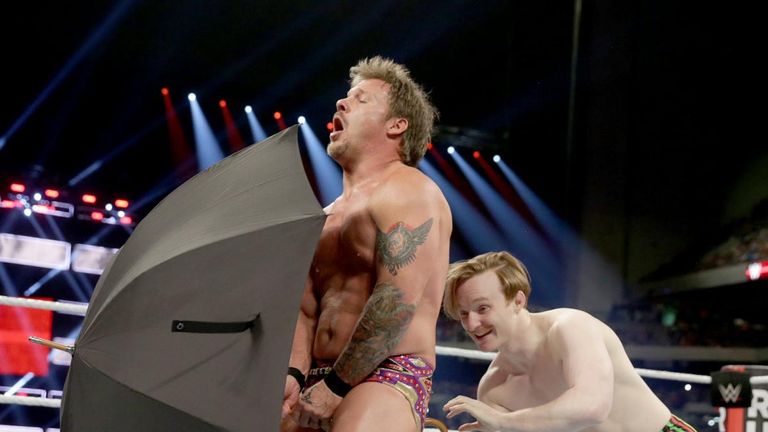 Finally found a pic of my fave Rumble moment so I'm using it.
Elimination Chamber because we can't make it all the way to Orlando without eliminating. I actually love the Elimination Chamber because it's the most elaborate gimmick WWE has, and ridiculously elaborate gimmicks are the best part of wrestling. Anyway, OK week, brought down some by the usual post-Takeover NXT.
THE GOOD:
(SD) A surprisingly hot match where Naomi and Becky Lynch defeated Mickie James and Alexa Bliss. Naomi and James really hung with Lynch and Bliss at a high level, which honestly surprises me a little. Naomi pinned Alexa again, so they seme to be positioning her for the title shot at Elimination chamber and Lynch in a grudge match with James.
(Raw) Kevin Owens' opening promo, full of piss and vinegar, bravado and bluster. Goddamn Owens is good.
(Raw) Sami Zayn defeats Chris Jericho in a sold match. It seems like maybe, just maybe, they're going to pull the US Championship away from the main event scene, and maybe even put it on Sami. I'd like that.
(Raw)OK, maybe I'm a sucker, but the backstage bit with Bayley and Cesaro group hugging a reluctant Sheamus, and then Charlotte, Gallows, and Anderson mocking them for it with some good burns, and then Bayley having to be held back when The Clerb call her a nerd, worked for me.
(205) Akira Tozawa debuts, snap-Germaning the fuck out of Local Talent in his debut. Brian Kendrick is on commentary, so I assume the aborted Tajiri-Kendrick program is being shifted to Tozawa-Kendrick, which I'm fine with. Tozawa's not dyed blonde anymore, though.
(205) Solid main event tag match between Alexander/Gallagher and Neville/Dar. Gallagher filled in for an injured Rich Swann (hurt his foot kicking Neville on Raw) and did an admirable job being the face in peril for almost the entire match. Dar kept pissing off Neville until The King abandoned him to eat a Lumbar Check and take the pin.
(Raw) Samoa Joe debuted as HHH's "destroyer", demolishing Seth Rollins at HHH's behest to close the show. I like this role for Joe, he and Rollins can have some decent matches, and sets the stage six to twelve months down the road for a Joe face turn similar to Rollins'. Not that WWE thinks that far ahead except when they're booking arenas.
THE BAD:
(Raw) Seth Rollins' knee injury is apparently legit. Booooo.
(SD) An open challenge from American Alpha turned into a mess when every Smackdown tag team answered it, which is an interesting idwa, but it ended when they ejected everyone from the ring except Slater and Rhyno, and then they played American Alha's music like they won something?
(SD) James Ellsworth, looking like the love child of Guy Fieri and a worm, is now delivering Carmella's original face intro speech as a heel now. He also tripped Local Talent allowing Carmella to win.
IRaw) Tony Nese gets a win over Mustafa Ali. That's not the bad part. Post match, though, Austin Aries did a ramp interview with Nese where he called Nese boring. WWE needs to stop giving boring wrestlers the "you're a boring wrestler" gimmick, because all it does is reinforce to the audience that they're boring.
(Raw) Neville and Swann had a post-match showdown. First, WWE's obsession with making British heels into monorchy gimmicks is tiresome. I mean, at least Neville hasn't dug the one crown and cape WWE's been using since the 80's out of storage, but he's still dowing the "bow down" thing. Also, the crowd doesn't give a shit and Rich Swann isn't great on the mic.
(SD) The Intercontinental Title is being ignored in favor of the World Championship in a very Raw-like move, as Dean Ambrose is one of the Elimination Chamber competitors for the big belt. Plus he wrestled AJ Styles again this week like it was fucking October again or something. Also, AJ Styles is still calling himself The Face That Runs The Place after he lost the belt, which even even David Otunga realized was weird. Anyway, the match was the match and ended with Miz and Corbinference because, well, Elimination Chamber.
(Raw) The big match of the night is Kevin Owens vs. Braun Strowman, but of course Reigns interjects while Strowman is demolishing Owens. It's wildly irritating that the Universal Champion is currently the sixth to ninth most important person on Raw, behind HHH, Lesnar, Goldberg, undertaker, Rollins, Reigns, and Strowman to varying degrees.
(NXT) The announcement that Nigel McGuinness would be taking Corey Graves' spot on the NXT announce team. Yay!
(Raw/SD) No Tye Dillinger.
THE WEIRD, AMBIVALENT, AND BORING:
RAW: I hate to demote a perfectly acceptable Paul Heyman promo from "Good", but during his entire promo, all I could think was, "Why isn't Brock Lesnar getting angry about what Heyman's saying?" He just stood there being Lesnary while Heyman ran down a litany of recent setbacks before getting to the point of a match at Wrestlemania where Lesnar would turn things around. Enh.
SMACKDOWN: Randy Orton and Bray Wyatt beat John Cena and Luke Harper after Orton hit the RKO on Cena.Dolph Ziggler had a rerun of his "squash Kalisto, attack Kalisto after the match, Crews runs Ziggler off" bit from last week. Nikki-Natalya at Elimination Chamber, which means maybe three women's matches? One on the pre-show?
NXT: The usual post-Takeover show with filler matches featuring the talent who didn't have matches on the main show. Ember Moon beat Aliyah in an OK match, Tyler Bate beat Oney Lorcan in a fun contest, and I fast-forwarded through No Way Jose beating Elias Samson because fuck the Drifter.
205: Tony Nese's push continues, as he gets a win over Lince Dorado, does the corner powerbomb post match, then eats a Detonation Kick from TJ Perkins making the save. Match was OK, pop for Perkins save was respectable.