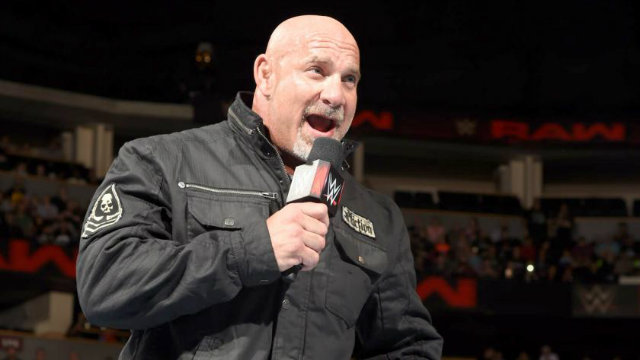 Dooooooooooooon't caaaaaaare! Dooooooooooooon't caaaaaaare!
OK, for the record, the main reason I shit on Goldberg at the end of this WWW is because I don't have the one thing required to like Goldberg's return. I wasn't watching WCW when he went on his streak. I have zero emotional connection to or nostalgia for the man or the character. If you do, you'll probably see things differently.
Jericho and Owens are out to open the show and antagonize the crowd, complain about being in The Cell, Owens has to heel is up extra hard because Jericho's List is super over. Rollins comes out to make fun of Jericho and call him "Sparkle Crotch". Rollins tries a little divide and conquer. Owens tells Rollins he has no friends, and I smell a mystery partner tag match. But instead they go with Rollins-Jericho rematch and tease Jeri-KO friction.
Rollins and Jericho have a solid, workmanlike TV match for a while before Owens comes out, having promised to stay away at Jericho's request. Rollins escapes a long Wallks of Jericho, then manages to reverse a Codebreaker into a Pedigree for the win as Owens looks on.
We're getting a lot of Elderlyberg retrospectives, so if you like seeing his three moves throughout the ages, you're in luck.
Quiet Backstage Interviews with Lita are the order of the day for the first ever women's Hell In The Cell match. We learn nothing new from Charlotte.
The WWE has found a way to make me care even less about the Golden Truth. Pair them with Mark Henry and pit them against the Shining Stars and Titus O'Neill. I don't even know who won because I fast-forwarded past the finish and couldn't bring myself to rewind. INstead I watched the boiling Jeri-KO tension.
Oh, hey, the Sheamus-Cesaro are doing the "one has a singles match against a member of The New Day while the other Facebook Lives it thing, only reversed. His opponent is Big E, so we get some New Day trash talk. The match is OK, and we get to see Big E do the apron splash, which is always fun. Big E wins with a rollup when Sheamus gets annoyed with Cesaro's antics.
Angry Bo Dallas has a match with Neville. Angry Bo has Intense Curtis Axel in his corner. Short back and forth match, but Dallas wins with the face-first spinning neckbreaker, then destroys Curtis Axel after Axel tries to cheer for him, a turn I was expecting last week. I actually wish this were going somewhere, because Angry Bo looks great in the ring.
Time for Bayley and Dana to continue their mini-feud, following up on last week's ramp attack. Bayley still needs to tighten up her intro. Bayley pulls out the through-the-corner dropkick, but Brooke wins after a very, very weird, probably botched finish.
This week, Braun Strohman squashes three jobbers at the same time, and this is turning into the weirdest Sesame Street bit ever. Strohman's call for competition brings out Sami Zayn, who faces down Strohman before being shoved out of the ring. This isn't going to be good for Sami. Backstage, he says he picked a fight with Strohman because "nobody else will", but I can't see Sami coming out on top in this feud.
Rusev and Lana are out to yell at the crowd and try to make them mad enough that when Reigns interrupts, he won't get booed out of Denver. He does this first by being a little racist, and then by boring everyone with an introduction to the Rusev family. It's not quite enough. After some shitty trash talk, Rusev beats the shit out of Reigns and gives him the Accolate on the bottom half of the stairs.
Speaking of minifeuds from last week, and Cass is out for a singles match against Karl Anderson. Short match, not helped by Michael Cole failing to call Cass's East River Crossing singles finisher until well after the three-count.
BEARD COLLUSION IN THE CRUISERWEIGHT DIVISION.
Sasha's turn to be quiet backstage with Lita. We don't learn anything new here either.
Team Beard (Gulak, Nece, and Kendrick) face off against Team OK Two Of These Guys Have Beards Too (Perkins, Alexander, Swann). Solid outing, as Kendrick steals the glory from Nece to make Swann submit to the Captain's Hook.
It's time four our main event chat, as Zoidberg walks through the arena and out to the ring in a big bulky jacket. Dadberg gets a "HOLY SHIT" chant, which gives him time to catch his breath after his long walk. Goldcoot is happy that fans didn't forget him after months of pre-order promos for WWE 2K17 and two weeks of hype and retrospective. Goldengirlsberg has been traveling around the world promoting WWE 2K17 since January, which is why he calls it "2K WWE 17". Anyway, he accepts Brock's challenge, and it'll probably happen at like the Royal Rumble or something.