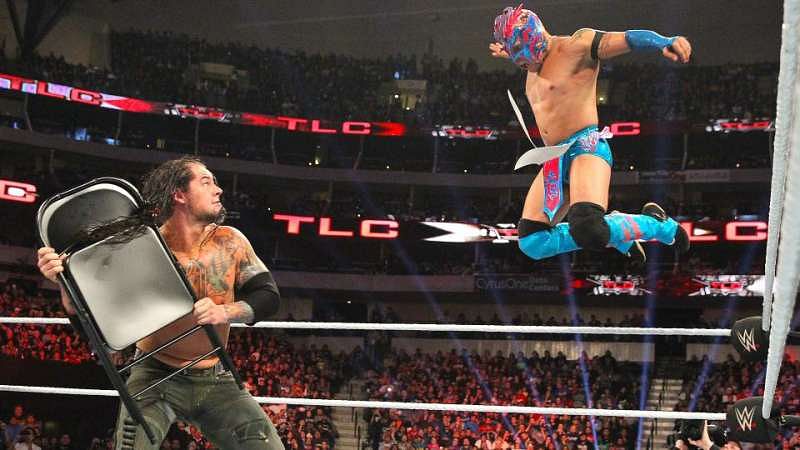 Really, Bryan? This match? Kinda maybe, actually.
Pacing is a problem with hardcore matches. They tend to be slower affairs, as the wrestlers have to set up the equipment and the spots and be extra careful hitting them. And if you fill an entire card with those matches, the entire show can suffer. And so it was with the Smackdown-exclusive TLC on Sunday.
The pre-show included a ten-man tag between American Alpha, Hype Bros, and Apollo Crews (back from milk carton duty) and The Ascension, The Vaudevillains, and Curt "I Stole Eva Marie's Intro Gimmick" Hawkins. This was actually a fun match with some good energy and some great spots, marred largely by Mojo Rawley continuing to expand his growing arsenal of ways to be annoying, and The Vaudevillains eating the pin because I guess that's their job now.
SmackDown Tag Team Championship Match: Heath Slater and Rhyno vs. Randy Orton & Bray Wyatt
Orton and Wyatt win this, because Slater and Rhyno are so past done. And hopefully they drop the belts to American Alpha.
Thankfully, this was over quickly. It never rose above mediocre, and only had a bit of energy when Bray was beating on Slater. Finish was a mess, but Slater ate an RKO for new champs and 1/1 on predictions.
No Disqualification Match: Nikki Bella vs. Carmella
The outcome of this match literally does not matter, but the feud is months old and going nowhere, so let's say they end it with Nikki winning and figure out some othre pairing amongst whichever four women on the roster aren't in the title picture for another couple months.
This was... pretty good? Deliberately paced, but well-wrestled. The no-DQ elements amounted mainly to kendo stick shots, but the finish saw Nikki hitting the Rack Attack after extended use of the fire extinguisher. 2/2 on predictions, and post-match, Carmella claims that Natalya was the one who attacked Nikki at Survivor Series. So not only did I call the match right, looks like Nikki and Nattie will be facing off soon.
WWE Intercontinental Title Ladder Match: The Miz vs. Dolph Ziggler
This has to be Ziggler, right? I mean, I've lost track of the point of this feud already, but dude doesn't put his career on the line for a one month title reign. Assuming Miz only got the belt back so that Miz-Zayn could be a heel-face thing, Ziggler gets the belt back.
NOPE! I need to understand that the WWE likes The Miz way more than it likes me. He retained the belt after two low blows to Ziggler from the ladder (clever spot) and cuts a promo on Daniel Bryan after the match. I have no idea what the fuck this whole thing was supposed to do for Ziggler. He's like two for a bajillion in their entire series. The match was OK. The clever bits were clever but a too-small percentage of a slow match filled with many of the typical ladder match spots. And there goes my perfect prediction streak. 2/3.
Chairs Match: Baron Corbin vs. Kalisto
Speaking of feuds that need to end. But I need to make some picks that go against what I want, and nothing wouild go more against what I want than Baron Corbin winning this match.
I was worried, for a while there, that I'd put the "WWE hates me and does nto give me what I want" pick on the wrong match. But nope, I just didn't put them on enough matches. I will say, while I'm still no huge fan of Baron Corgin, he's come a long way since his callup. Both guys showed great emotion, and Corbin's much more confident moving around the ring and his moveset's a bit broader. 3/4 on predictions.
SmackDown Women's Championship Tables Match: Becky Lynch vs. Alexa Bliss
I think they're moving closer to a title change on Smackdown, but I don't think they're there yet. That, plus Alexa getting the upper hand on Smackdown this week, makes me think Becky retains.
And it makes me wrong. Wrong about it being the match of the night, and wrong about Lynch winning. It's a fairly plodding match, and while it was fine for what it was, it never really clicked or caught fire, either with me or the crowd. 3/5.
WWE World Championship TLC Match: AJ Styles vs. Dean Ambrose
Gonna go AJ here. Mainly because I think Dean Ambrose has done all he has as champ. But would that end their feud? Because I'm sick of them wrestling each other, too. Ellsworth will be involved and will be used poorly.
And so it goes. The match started strong and ended OK, but again, the plodding pace took the crowd out of it so that the reactions to even the big impressive spots seemed muted. FInish came when Ellsweorth turned on Ambrose, shoving his ladder over and sending Ambrose crashing through tables, presumably because he wants to face Styles for the championship.
Overall, not a great show. I don't think I actively liked any one of the matches start to finish, and when I'm seriously considering Corbin-Kalisto for match of the night just because it had a slightly brisker pace and some fucking energy to it, you know something's weird.