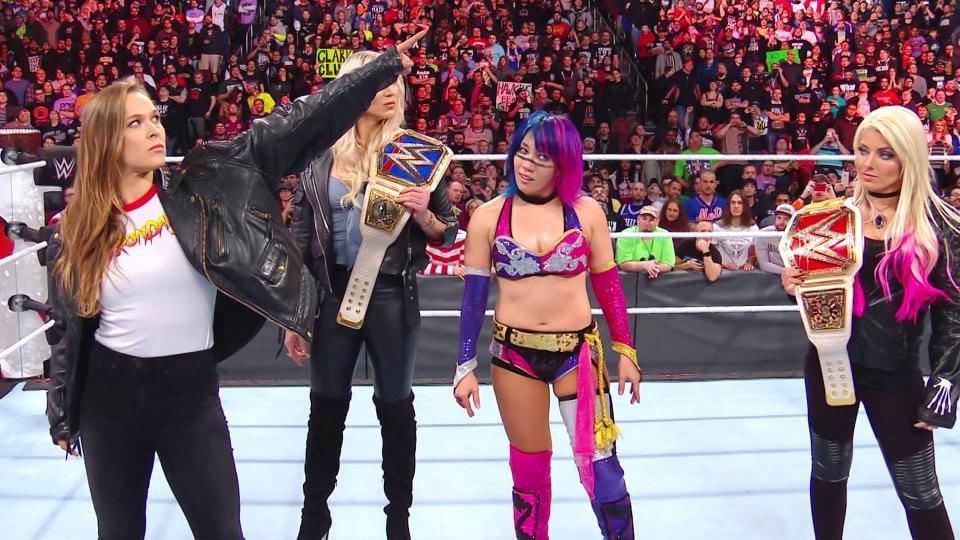 So much right, and yet, so much wrong.
Oh, hey, this has been sitting in Chrome waiting for me to hit POST for like five days. Neat.
On what was, overall, a pretty successful show, the WWE earned a lot of credit by making history, then spent that credit by how they made it.
TJP, Jack Gallagher, and Drew Gulak vs. The Lucha Connection (Kickoff): I'm going to give it tot heLuchadors.
The luchadors won in a pointless filler match. (1/1)
Revival vs. Gallows and Anderson (Kickoff): Revival gets their win back.
Yep, another pre-show filler match. (2/2)
Booby Roode In An Open Challenge Totally Against Dolph Ziggler (Kickoff)I: If for some reason its not Ziggler, then Roode will win.
It was Mojo Rawley. For some reason, they thought it'd be a better idea to have Ziggler be "surprise" #30 in the Rumble and do nothing and get eliminated quickly. Anyway, Roode won and who cares? (3/3)
AJ Styles vs. Kevin Owens and Sami Zayn (Handicap, WWE CHamp): AJ wins this.
Yep. Yep. Yep. The match was pretty good, and the "controversial" ending means well keep seeing this at least through Fastlane. I hope they have a way out of this storyline before Wrestlemania that doesn't involve Shane wrestling again. (4/4)
The Usos vs. Gable/Benjamin (2/3 Falls, SD Tag Champs): The Usos should win but Gable and Benjamin shouldn't lose,
But they did lose. Oh, how they did lose. Two falls straight. I have to imagine they move way down the ranks and the Usos end up feuding with the Bludgeon Brothers or some shit leading up to Fastlane. (5/5)
Men's Royal Rumble Match: Reigns, Orton, Ricochet
This is probably my favorite Rumble in years, not just because Nakamura won (I thought they'd hold off on him vs. AJ until next year) and not just because Hurricane was one of the surprise entrants. It just had a pretty good ebb and flow, with good wrestlers getting good spots and doing good things And Randy Orton didn't win. (5/6)
Rollins and Jordan vs. The Bar (Raw Tag Champs): The Bar getting the belts anyway.
Poor guys. They had to follow the first Rumble, which is a bad spot to begin with, and they had to do it with a match that consisted almost entirely of Seth Rollins getting beat up while Jason Jordan sold a head injury from the ring post for like twenty fucking minutes. It didn't go well. (6/7)
Brock Lesnar vs. Braun Strowman vs. Kane (Universal Champ): Kane is in this match to eat the pin from Lesnar.
And so it went in this complete mess of a match that all of Strowman's visible effort couldn't salvage. Messy spots, ugly action, sloppy and not particularly exciting. (7/8)
Women's Royal Rumble Match: But I bet it'll be Asuka.
Yep, Asuka won the first ever women's Royal Rumble. You wouldn't necessarily know it based on the match booking, where she only eliminated two people - one from NXT and one no longer on the roster. Michelle McCool, by contrast, eliminated four people, three of whom are on the active roster (technically - one was Lana). And you wouldn't know it from the post-match celebration, where, instead of picking which champion she would go up against, she got upstaged by Ronda Rousey walking around slowly and pointing a lot.
Overall, it was a well executed match booked poorly. I have a lot of complaints with how many legends they used vs. how many NXT and Mae Young talents they used. I have an even bigger problem with how many of those legends and non-roster women got to eliminate people. Thirteen out of 27 solo eliminations were by non-roster talent (there were two "everybody tries to get someone out) eliminations). It wasn't what it should have been - a showcase for the talent they currently have. It was more of a "hey, women wrestling!" thing which made it seem more like a one-time special attraction than the first of a regular, just like the guys thing. But the guys had TWO non-roster surprises (Hurricane and Rey Mysterio) and only one non-roster eimination (Mysterio eliminated Almas, who isn't even main roster). Not quite the debacle the first women's Money In The Bank was, but WWE is still working on its whole feminism thing. (8/9)