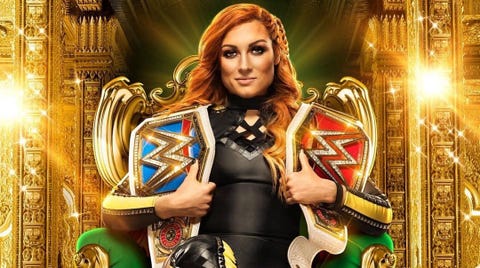 I don't care about much in WWE these days, but I still care about this.
There's no denying it. Post-Wrestlemania WWE has been an epic flailing shitshow. The Superstar Shakeup, allegedly planned months in advance, was thrown out the window as talent was shifted from one roster to the other and back again over a month, ending in the Wild Card Rule which means anyone can show up anywhere anytime. It's looking like we're entering into a Scared Vince / Senile Vince phase, where McMahon overrides everyone at the last minute to give fans what he knows in his hearts they want - chemically burned testicle humor.
It is against this backdrop I make my half-hearted predictions for Money In The Bank.
Tony Nese vs. Ariya Daivari (Cruiserweight, Kickoff):
Nice to see Daivari in the title picture, but he beat Nese down at the end of this week's 205, so they'll have a decent if unexceptional match and Nese will retain.
The Planet's Champions vs. The Usos (SD Tag, Kickoff)
The Usos are on Raw, so the Usos won't be winning the Smackdown tag belts. Note that this prediction is based on brand split logic and could therefore be completely wrong, but they didn't put the belts on Bryan and Rowan to take them off this quickly either.
Iiconics vs. Kabukimomo (Women's Tag)
I'll be using Asuka's term instead of the more problematic WWE branding of Asuka and Sane as "Kabuki Warriors". Anyway, it's entirely possible WWE could hotshot the belts onto them, but they had a strong win on Smackdown this week, and the joy of the Iiconics as champs is watching teams chase them, so Iiconics retain through shenanigans.
Samoa Joe vs. Rey Mysterio (US Champ)
They keep bringing Rey's son Dominic into this story. This means Joe's gonna retain via some sort of Dominic involvement and this feud will continue to Summerslam.
The Miz Vs. Shane (Steel Cage)
Jesus fucking Christ on a popsicle stick. This feud has been stinking up both shows so badly I fast-forwarded through it being a steel cage match. I'm instituting a Never Pick Shane rule just because fuck that guy. So even though they have to find other things for Shane and Miz to do if they stop wrestling each other, I'm going with Miz here.
Roman Reigns vs. Elias:
The other half of the Miz-Shane stinker feud. There's no way Reigns doesn't win this.
Women's Briefacse Match: Natalya, Alexa Bliss, Dana Brooke, Naomi, Bayley, Ember Moon, Mandy Rose, Carmella:
I get to pick one from each brand in the Briefcase matches. On the Raw side, Bliss has had it before, and Natalya's not getting it. Between Naomi and Dana, they've been paying more attention to Dana lately, so she'll be my pick on the Raw side.
Smackdown side is tougher. Bayley, Ember, and Rose are all legit contenders for different reasons (I'm no Mandy Rose fan but she's clearly getting pushed). But I think Bayley needs it the most. She's my Smackdown pick and also my overall first pick.
Men's Briefcase Match: Ricochet, Drew McIntyre, Baron Corbin, Sami Zayn, Finn Balor, Ali, Andrade, Randy Orton.
OK. We eliminate from contention Finn Balor, who's IC champ already. Andrade, who won on Tuesday and is rumored to be feuding with Balor. Orton, under the Never Pick Orton rule. Ricochet, because he stood tall on Raw and isn't going to be pushed for a main event title anytime soon.
That leaves McIntyre, Corbin, and Zayn on Raw, and Ali on Smackdown. Ali's a definite possibility and my only possible Smackdown pick, but I suspect they'll go with a heel with the case, and that's three heels on Raw. Would they give it to Corbin again? They very well might, and certainly would long before they give it to Zayn, but I have a gut feeling Drew McIntyre comes down with it. He needs it the most and he's exactly the kind of guy WWE will be looking to push right now.
Becky Lynch vs. Lacey Evans (Raw) and then Charlotte (SD) for the Two Belts:
Becky got put through a table by both Lacey and Charlotte on Raw, and has a documentary about her rise to prominence airing immediately after MitB. I don't care what anyone says, she's leaving MitB as Becky Two Belts, and that's not just the Always Pick Becky rule talking.
Seth Rollins vs. A.J. Styles (Universal Championship):
Seth's gonna have a long reign and everyone knows it, which is why this feud has no fucking heat to it whatsoever. It's just a "these two will have a good match" feud. Rollins retains.
Kofi Kingston vs. Kevin Owens (WWE Champ)
I firmly believe that once Kofi Kingston's title run is over, he'll be out of the main event picture forever, whether he deserves to be or not. It's like Jinder Mahal, except Kofi's good. So Kofi's reign is going to last as long as there's money in it, which means Kofi retains and Owens loses.