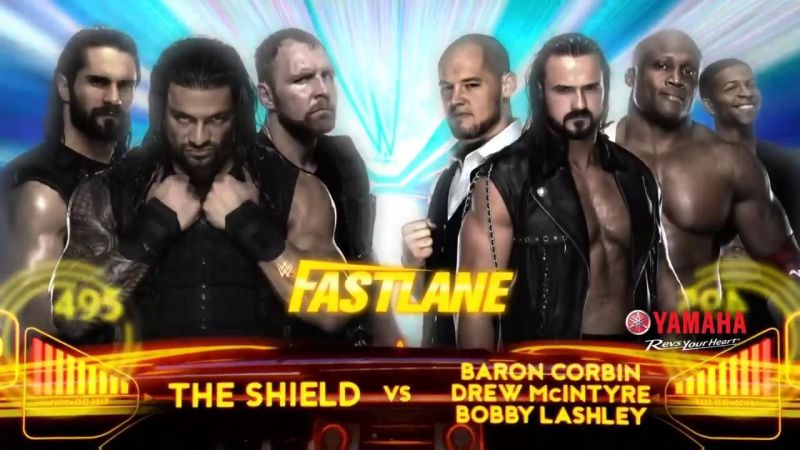 No, really, the team o the right stands a chance. What?
It's WWE Fastlane! Or, as it's known to people who watch it, "A bonus episode of Raw and Smackdown to set up Wrestlemania that they make you pay for!" Wrestlemania plans generally make Fastlane easy to predict, but WWE's lack of attention to all but a few stories muddies the waters a bit.
The New Day vs.Rusev & Nakamura (Kickoff)
Total coin flip. I mean, I'm not sure I should even have to make a prediction since Xavier Woods apparently found out about this match when it was announced on Twitter. But let's say Rusev and Nakamura.
Rey Mysterio vs. Andrade (Kickoff)
For example. These two have been mixing it up in R-Truth's US Title Open Challenges and have a long rivalry, but it's impossible to tell where the rivalry is or why it is other than they have great matches together. This should also be a great match. Let's say Andrade in a coin flip because he could use a win.
The Revival vs. Blacochet vs. Gablorious (Raw Tag)
If WWE won't make up tag team names, I will. Blacochet stood tall on Raw, so they won't be winning it. I don't see a title change imminent. Revival retains possibly through Shenanigans to set up another triple threat or fatal four way (with Heavy Machinery) for Mania.
Boss & Hug vs. We're Both Samoan (Women's Tag)
WBS stood tall on Raw this week, affirming the obvious - they won't win and Tamina will eat the pin.
The Usos Vs. MizMahon (SD Tag)
Usos win, Miz and Shane break up, Miz and Shane wrestle at Mania while I pee.
Asuka vs. Mandy Rose (DS Women's Championship)
Asuka retains. I say this even though she stood tall in a brief Smackdown segment this week, because if WWE jobs Asuka out to Mandy Fucking Rose, even through Devilleterference, then I'll definitely write a blog post about how I'm looking forward to All Elite Wrestling.
The Shield vs. Creative Has Nothing For You At This Time
There's no way The Shield loses to Lashley< McIntyre, and Corbin.
Becky Lynch vs. Charlotte Flair
If Becky wins, she goes to Mania, so Becky wins.
Daniel Bryan vs. Kevin Owens (WWE Championship)
I'm going to assume it's Owens-Bryan-Kofi for the belt at Mania, so Bryan has to retain, possibly through shenanigans.