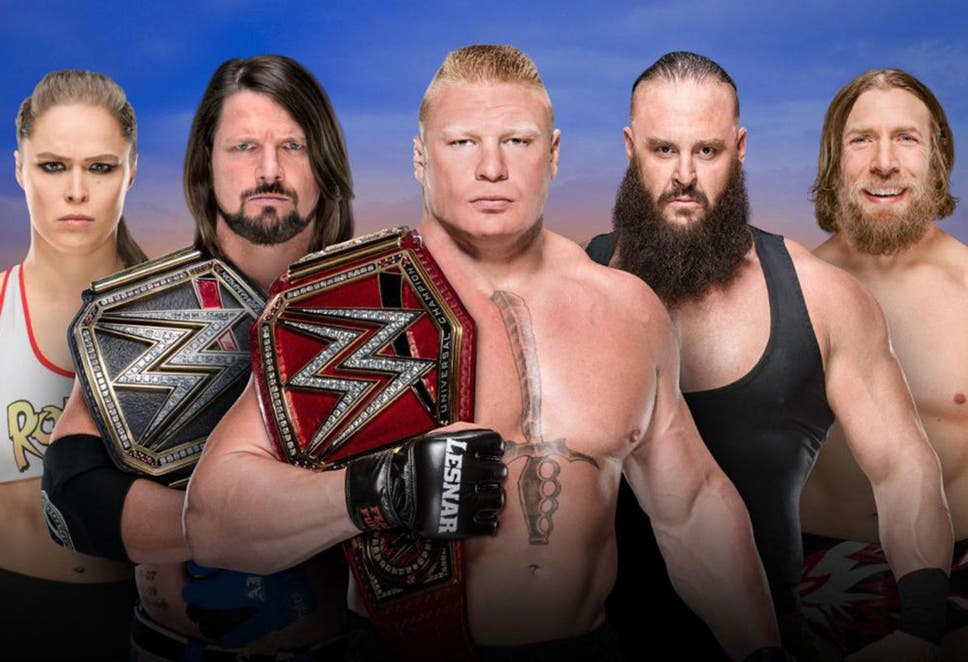 Oh yeah there's like fifteen more matches.
Summerslam! The biggest event of the summer! Honestly, it's a pretyy meh card on paper. We'll see how it plays out in reality.
Cedric Alexander vs. Drew Gulak (Pre-Show, Cruiserweight Belt)
PUT THE BELT ON GULAK. They probably won't, but they fucking need to, so I'm picking Gulack and I'll take the L if I'm wrong. Gulak wins the title.
Rusev and Lana vs. Andrade "Cien" Almas and Zelina Vega (Pre-Show)
There hasn't been a final split with Aiden English yet, so I'm going to say English costs Rusev and Lana the win. Weird for Rusev to go from challenging for the Smackdown championship to kicki the kickoff show, but that's wrestling for you. Almas/Vega win.
The B-Team vs. The Revival (Pre-Show, Raw Tag Belts)
They haven't built The Revival to a point where they can or should be beating the B Team, and the positioning on the card (most likely the second match of the pre-show) tells me they're going to keep the B Team rolling as long as people keep cheering and the shirts keep selling. B Team retain.
Finn Balor vs. Baron Corbin
This is still going on, for some reason. Finn Balor wins.
Shinsuke Nakamura vs. Jeff Hardy (US Title)
This is a dumb feud with Evil Again Randy Orton all over it. Randy's not on the card, which means he's definitely getting involved which means Nakamura's definitely retaining somehow.
Daniel Bryan vs. The Miz
This depends on whether this is a program or not. If it's a program, Miz wins through shenanigans, if not, Bryan wins settling this Miz thing once and for all. My gut tells me this is not a program. Bryan wins.
Carmella vs. Becky Lynch vs. Charlotte Flair (SD Women's)
This, and all the women's matches, are complicated by the existence of Evolution. Normally, this is where big programs would end, and Becky Lynch would complete her journey and win the belt back. But they may keep the belt on Carmella until the big women's event at this point. I'm not sure, but with the triple threat and everything... I'm going to say Carmella retains somehow. But I'm not comfortable with it.
Dolph Ziggler vs. Seth Rollins (Intercontinental)
We have Drew McIntyre and Dean Ambrose involved. There are a lot of ways this can go, but I'm going to go with Rollins winning the belt back thanks to Ambrose's help because I don't see this program continuing and I don't see Rollins going for the Universal Championship anytime soon, and I think they want to keep his momentum.
Braun Strowman vs. Kevin Owens (MitB Briefcase On The Line)
Ugh. Strowman doesn't need the briefcase and I'm convinced they only put it on him because they loved the phrase "Monster In The Bank". Owens is a much more traditional briefcase holder. He's been the underdog for months against Strowman, but at the same time, he's a heel. I'm going to go with what I want. Fuck it. Owens wins the briefcase.
Bludgeon Brothers vs. The New Day (SD Tag Champs)
This is gonna be a bunch of heart over head predictions which is going to screw my numbers up big time, but dammit, the BB's are shitty, boring champs. The New Day has losses to them on the books. Why match them again just to have the New Day lose again? New Day wins the belts.
AJ Styles vs. Samoa Joe (WWE Championship)
As much as I want to see Joe win the belt, until WWE 2K19 with AJ on the cover is released, he's not dropping the belt. AJ retains. The feud may continue though. Some in-match shenanigans or post-match beatdowns would not surprise me.
Alexa Bliss vs. Ronda Rousey (Raw Women's)
From a purely logical standpoint, they can't put the fucking belt on Ronda Rousey, beause right now, she can't wrestle a match without practicing it for weeks ahead of time. But WWE doesn't do logic and WWE doesn't do what they're supposed to. So I'm betting they put the belt on Rousey for the publicity and protect her to such a degree that it gets annoying.
Brock Lesnar vs. Roman Reigns (Universal Championship)
Please, dear God, let it be Reigns. I don't know what'll happen afterward with the Money in the Bank briefcase in play, and I don't care. I just want Lesnar to go away, and if that means putting the belt on Reigns for a few months, so be it.