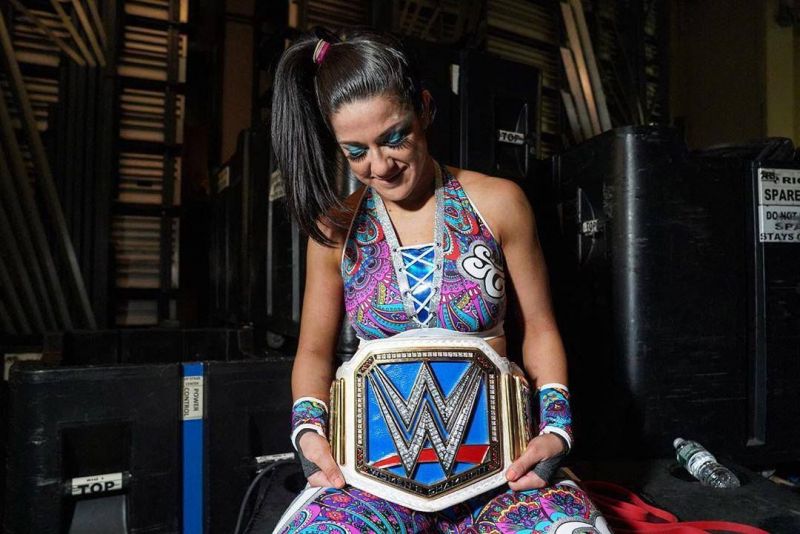 OK. Fine.
Money In The Bank wasn't an awful show. It wasn't even as awful as I expected it to be. But man, did the ending leave me with a bad taste in my mouth. We couldn't get a month without Brock Lesnar in the main title picture? Please.
The Planet's Champions vs. The Usos (SD Tag, Kickoff): The Usos are on Raw, so the Usos won't be winning the Smackdown tag belts.
Technically, this prediction was correct, because they changed the match to non-title. But I knew that after I posted and still didn't think they'd have the Usos pin the SD tag champs on the pre-show, and that's what happened. Match was fine. (0/1)
Women's Briefacse Match: Natalya, Alexa Bliss, Dana Brooke, Naomi, Bayley, Ember Moon, Mandy Rose, Carmella: I think Bayley needs it the most. She's my Smackdown pick and also my overall first pick.
Hooray for Bayley! I enjoyed this match a lot - lots of innovative spots and solid drama, despite the occasional badly-covered botch. Looking at you, Mandy Rose. (1/2).
Samoa Joe vs. Rey Mysterio (US Champ): This means Joe's gonna retain via some sort of Dominic involvement.
This was a fucking mess. Cut short early because Joe was bleeding, a weird awkward pin where Joe's shoulder was up the whole time - was the shoulder up intentional? Was the pin intentional? Who knows? - and then a post-match beatdown. Plus Rey injured his shoulder so so far we're denied any followup. (1/3)
The Miz Vs. Shane (Steel Cage): I'm going with Miz here.
Hey, remember how Shane won at Mania because of a fluke after getting his ass kicked? Well, at MitB, he won because of a fluke after getting his ass kicked! I hate everything about all of this. (1/4)
Tony Nese vs. Ariya Daivari (Cruiserweight, Kickoff): They'll have a decent if unexceptional match and Nese will retain.
Correct, although I'd be exaggerating a bit to call the match decent. They never really clicked with each other or the audience, so, for once, the 205 crowd didn't steal the show. (2/5)
Becky Lynch vs. Lacey Evans (Raw) and then Charlotte (SD) for the Two Belts: I don't care what anyone says, she's leaving MitB as Becky Two Belts.
Almost. Becky had the strong outing against Lacey Evans she desperately needed, and only lost to Charlotte due to Lacey-ference. Then Bayley rescued Becky from the post-match beatdown, cashed in, and took the title from Charlotte. I don't hate it. I don't love it as much as I love Becky Two Belts, but I love it more than any other way to not have B2B. (3/6)
Iiconics vs. Kabukimomo (Women's Tag):
I thought this match was happening, and it was not.
Roman Reigns vs. Elias: There's no way Reigns doesn't win this.
Yep. I remember nothing about this. (4/7)
Seth Rollins vs. A.J. Styles (Universal Championship): Rollins retains.
The story leading up to this was Two Good Wrestlers Are Gonna Have A Good Match, and two good wrestlers had a good match. A very good match. But in the grander scheme of things (see below) it meant less than nothing. (5/8)
Kofi Kingston vs. Kevin Owens (WWE Champ): Kofi retains and Owens loses.
Yep! This one had more heat to it, because Kofi and Owns are great wrestlers AND great characters, and also there was a story behind it. Great work from everyone involved, and the right result. (6/9)
Men's Briefcase Match: Ricochet, Drew McIntyre, Baron Corbin, Sami Zayn, Finn Balor, Ali, Andrade, Randy Orton: Ali or Drew McIntyre.
My predictions don't matter because nothing matters because Zayn got taken out pre-match, seven guys murdered themselves and each other, and at the end, Brock Lesnar showed up, climbed the ladder like a dad who shouldn't be painting the gutters, and took the briefcase. In terms of final match surprises, let's just say WWE came up short this week. (6/10)